product details & information
Dimensions
Folded (seat on): 75 x 59.5 x 40cm/29.5 x 23.4 x 15.7in
Frame width: 59.5cm/23.5in
Seat back height: 53cm/20.8in
Seat width: 32cm/12.6in
Seat depth: 22cm/8.7in
Seat height from ground: 55cm/21.6in
Infant Carrier (LxWxH): 81cm x 38.5cm x 59cm / 31.8 x 15.1 x 23.2 in (top of canopy) (22.5cm [8.9in] to top of base)
Weights
Frame: 7.8kg/21lbs
Stroller Seat: 3.2kg/7.05lbs
Infant Carrier: 3.2kg/7.05lbs
The MIO has been designed to be used from newborn (with optional infant carrier) to 4 years.
Infant Carrier (sold separately):
Maximum load: 9kg/20lbs
In line with expert advice, we recommend the use of the infant carrier for babies under 6 months old. They should remain in the infant carrier until they can sit up and support their head and neck un-aided (around 6 months).
Stroller Seat:
Maximum load: 20kg/44lbs
In order to balance stroller size, weight and usability, the seats are designed to fit the average 4-year-old, up to 20kg/44lbs in weight and comply with all Canadian Safety Standards.
Getting too tall? You can move the canopy connectors higher up the frame to give them more room under the canopy.
Seat Size:
Seat back length (from seat to top of the backboard): 53cm/20.8in
Max. head-height allowance (with canopy connectors shifted up): 67cm/26.4in

Basket maximum load: 8kg/18lbs
Handlebar bag maximum load: 2kg/4.4lbs
The following infant car seats are compatible with Infant Car Seat Adaptors:
Clek Liing
Maxi-Cosi Mico 30
Maxi-Cosi Mico Max 30
Maxi-Cosi Mico Max Plus
High-tech aeroglide wheels provide extra cushioning without the punctures or maintenance required by air-tyres.
360-degree front swivel wheels allow a perfect turning circle and effortless manoeuvrability
4-wheel suspension adds additional cushioning to uneven ground, while larger wheels ensure a smoother ride.
Front wheel diameter: 19cm/7.5in
Rear wheel diameter: 23.5cm/9.2in
frequently asked questions
Can't find what you're looking for? Our team are ready to help! Contact us here
The MIO is a single stroller only and can not accomodate a second seat, infant carrier or car seat. If you're looking for a double stroller, check out our DUO2 here.
We recommend measuring the folded dimensions below against the dimensions of your trunk.
Dimensions (L x W x H)
Folded (seat on): 75 x 59.5 x 40cm/29.5 x 23.4 x 15.7in
Infant Carrier: 81cm x 38.5cm x 59cm / 31.8in x 15.1in x 23.2in (top of canopy) (22.5cm [8.9in] to top of base)
We do not make or sell infant car seats.
Our car seat adaptors allow you to fit a compatible capsule to your MIO stroller frame.
The following infant car seats are compatible with the MIO car seat adaptors:
Clek Liing
Maxi-Cosi Mico 30

Maxi-Cosi

Mico Max 30

Maxi-Cosi

Mico Max Plus
mio virtual demonstrations
Register up for an upcoming Virtual Demo on Facebook LIVE or watch a replay now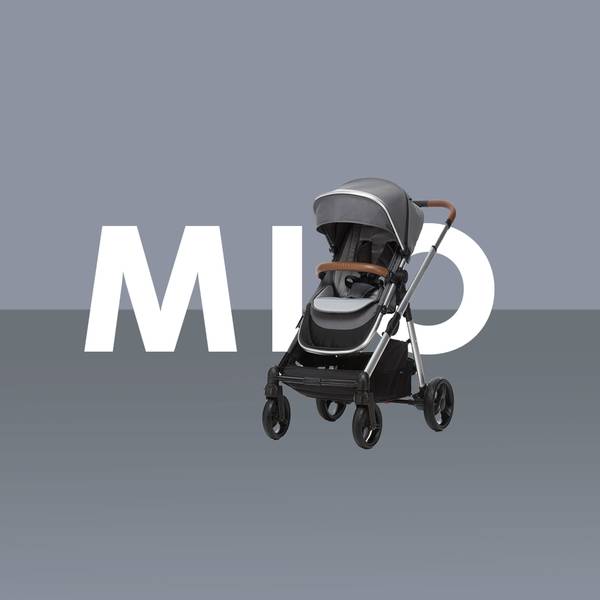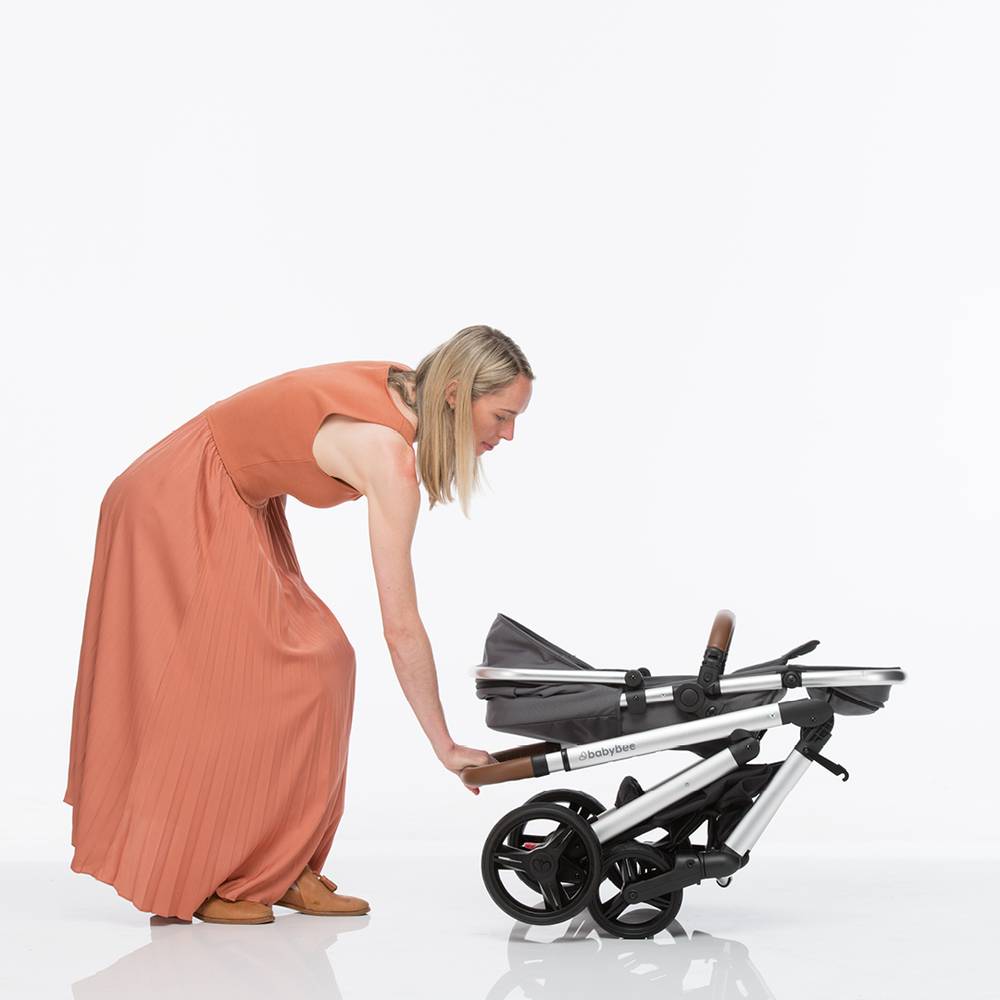 can't make the live demo? catch the replay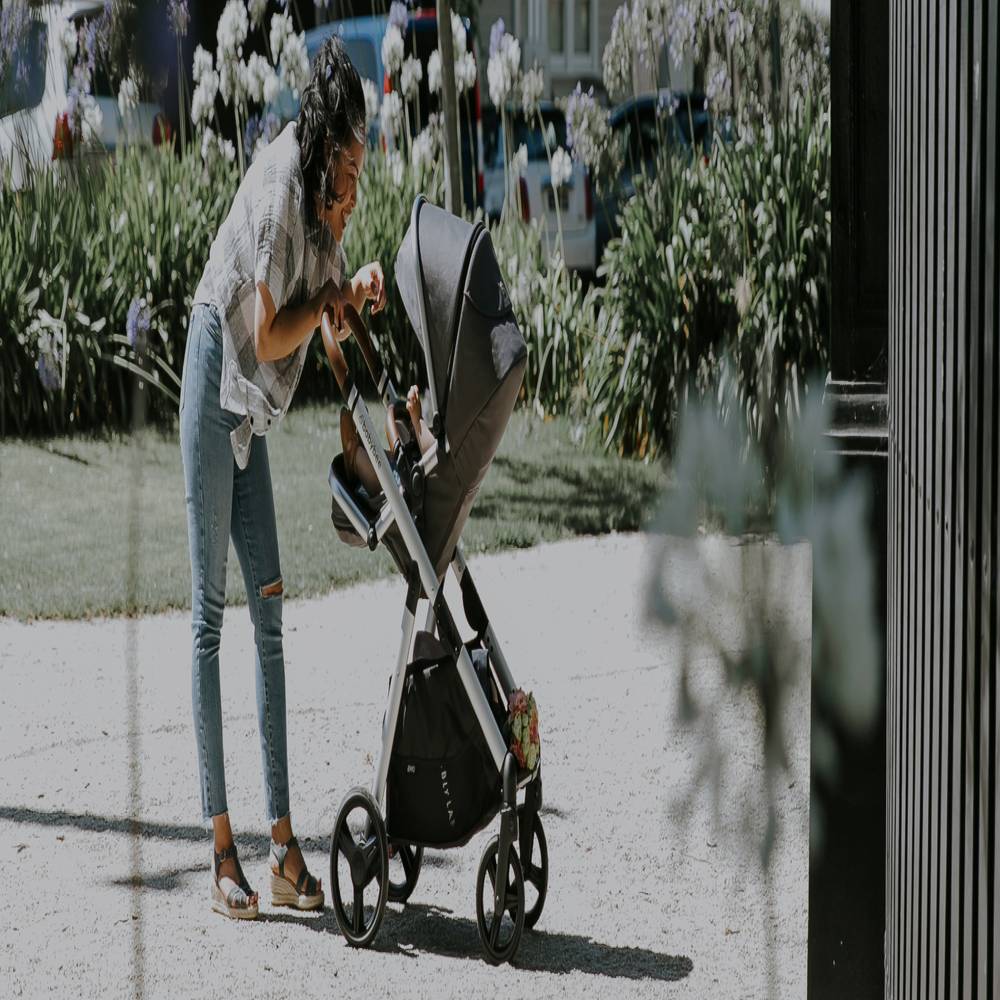 test drive a mio today.
Buy with confidence with free returns. Set your new MIO up and test-drive it at home. If it's not the perfect stroller for you, simply box it up & send it back, no questions asked.
learn more
the perfect stroller for new beginnings
Designed with feedback from over ten thousand customers, the MIO is the ultimate choice for Canadian families.
risk-free returns

3 year warranty

essential accessories included

lifetime customer service
multi-award winning
label
$250 of free accessories in every box
more than just a stroller
Top quality materials.
built to last.
Experience premium quality and comfort with a lightweight, sturdy aluminium frame, durable yet irresistibly soft fabrics, and all backed by a 3-year warranty for peace of mind.
One-step, one-second fold.
Quick, Convenient and easy.
With a single swift motion, it's ready to go. One hand, one second.
a dream to push.
Uncompromised Stability, Easy Handling.
Experience the best of both worlds with a pram that boasts a sturdy, yet lightweight aluminium frame ensuring safety at every turn without compromising on agility. Large wheels tackle bumps and potholes with ease, while 4-wheel suspension ensures a smoother ride.
car seat compatible
fits your family
No need to wake a sleeping newborn, withthe MIO car seat adaptors you can transform your stroller into a travel system and take your precious cargo directly from car to stroller.
view compatible car seats
ergonomic seat
Smart functionality, maximum comfort
Fully reversible with three recline positions and an adjustable foot rest, the MIO stroller seat was ergonomically designed to adjust and fit to your little one from 6 months to 4 years
unparalleled storage.
Spacious, Hassle-Free Shopping.
Elevate your shopping game with the MIO oversized shopping basket design. Unlike other models, our bar-free system grants you seamless access, saving you the hassle of maneuvering bags around an intrusive metal bar. Plus, with a stable flat bottom, you can shop with confidence, knowing your bags won't tumble.
premium infant carrier
ready for any weather
Ultimate comfort and protection, designed to provide an exceptional sleeping experience for your baby.
Featuring a pop-out weather shield that promotes uninterrupted naps and a large mesh ventilation panel for optimal airflow, coupled with a plush interior, this bassinet ensures your little one enjoys a cozy and well-ventilated resting environment.
a pram that thinks for you
smarter design features
Meticulously crafted with a range of intelligent features designed specifically to simplify the lives of busy parents.
try at home with free returns
Shop with confidence. Unbox and test-drive your new MIO at home. If it's not the perfect pram for you, simply return it, no questions asked
return policy
want more?
accessorise your mio
Beauty AND Functionality!
LOVE this stroller! It was ridiculously easy to put together, it glides and swivels effortlessly, easy to put down and pack in the car. Not only does it function the way you'd want a stroller to, but it also looks stylish! Very happy with my purchase and would definitely recommend to family and friends :)
Perfect!
Love this stroller! It's lightweight, easy to put up and down and comes with so many extras for the price. Would definitely recommend!
Does what it says
I purchased this stroller because I was after something light, easily fit through door ways, had a generous basket size, handles well and sturdy. It ticks all of these boxes and we've had no issues so far. Wouldve liked the option to buy as a travel system, but we bought the adaptors and purchased the infant car seat elsewhere.
details & faqs
View our range of compatible car seats here
The MIO Car Seat Adaptors are for use on all DUO/MIO models. Not compatible with any other stroller models.
Clek Liing
Maxi-Cosi Mico 30
Maxi-Cosi Mico Max 30
Maxi-Cosi Mico Max Plus
Maxi-Cosi Mico XP Max